ONE LIGHT HEALING TOUCH JOURNEYS AND THE HEALING FIELD
Ron Lavin, MA, is a renowned energy healer and is the founder and director of ONE LIGHT HEALING TOUCH International Energy Healing and Mystery Schools. He has created a powerful and profound audio series for self-healing.
ONE LIGHT HEALING TOUCH JOURNEYS –  A CD/MP3 Series
HEALING MEDITATIONS, CHANTS AND EXERCISES with Ron Lavin, M.A.
Only Volumes #1 and #3 are available to the public. This audio series is designed to support our OLHT students. This series presents extraordinary practices to bring harmony, joy, health, clarity and clairvoyance, release stress and blockages, and bring us into spiritual alignment. The practices are from shamanistic, holistic and esoteric traditions, as well as Ron's guidance and connection with his Higher-Self and Spirit. This audio series will also serve to strengthen one's personal spiritual healing practices.
THE HEALING FIELD – Exploring Energy & Consciousness. ($20). HD and Closed Captioned. NTSC – all region DVD.  Ron Lavin, MA is featured in this 2016 Telly-winning documentary. Explore breakthroughs in quantum physics, genetics, energy medicine, and mind-body techniques. Meet acclaimed experts and practitioners; see inspiring healing stories; and discover how energy medicine is changing our health, our society, and our future!  Featuring: Bruce Lipton, PhD, cellular biologist; Lynne McTaggart, consciousness spokesperson; Beverly Rubik, PhD, biophysicist; Candace Pert, PhD, neuroscientist;  Hyla Cass, MD, integrative medicine expert; Ron Lavin, MA, founder of One Light Healing Touch Energy Healing & Mystery School; Kenneth Cohen, qigong master; Gerald Epstein, MD, mental imagery expert; Gary Renza, qigong instructor; Melodee Gabler, sound healing practitioner, and Linnie Thomas, HTCI.
"In The Healing Field, filmmaker Penny Price has brought together the great minds and healers of this era to create a masterpiece."- Jack Lim, Qigong Grand Master.
The 60 min. version can be seen on PBS and Gaia.com.
The 82 min. DVD Extended Edition includes these additional segments:  Sound healing; A segment on how the mind, heart and intentions affect our life and health; And a segment teaching powerful self-healing practices, such as Running Energy™  with Ron Lavin, MA; soundwork with Melodee Gabler; mental imagery with Gerald Epstein, MD; and qigong with Gary Renza.
+ Bonus Material (17 min) More expert interviews including Larry Dossey, MD, and self-healing practices with Gerald Epstein, MD, and Rollin McCraty, PhD. To See the trailer or order the DVD visit:  pennypricemedia.com/product
REGARDING OLHT Journeys and DVD orders: They are produced and fulfilled by Penny Price Media. DVDs & CDs: will be mailed within 2-3 days. MP3's Orders: pricemedia@aol.com will email buyers and students a MP3 ZIP folder within 12-24 hours. PPM's office hours are Mon.- Sat. (10-5pm EST.) For questions, please contact: pricemedia@aol.com.  Thank you!
For information about renowned healer, Ron Lavin, MA, and his OLHT school and trainings, or return to his website – "One Light Healing Touch".
ONE LIGHT HEALING TOUCH JOURNEYS are listed below: 
---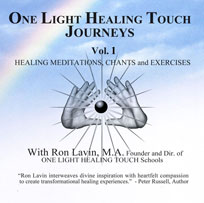 F1. ONE LIGHT HEALING TOUCH JOURNEYS  – Vol. 1  72 min. — $15.00
SIX POSITION MEDITATION & MOVEMENT™ – An essential daily practice awakens and aligns the six positions of human existence, bringing us into a cleansed, grounded and joyous awareness.
RUNNING ENERGY™ – An excellent eight minute daily practice for coming into present time awareness, clearing foreign energy and activating one's healing energy.
THE NOM – A powerful clearing and balancing chant that connects us to the four levels of being: followed by a visulization.
THE NIYEE – A deep and profound Release Chant.
Item Name: ONE LIGHT HEALING TOUCH JOURNEY CD- VOL 1
Item Number: F1 – CD
Price: $15.00
Item Name: ONE LIGHT HEALING TOUCH JOURNEY MP3 – VOL 1
Item Number: F1 – MP3  (You will receive an email from pricemedia@aol.com with a MP3 zip folder within 12-24 hours, after payment is  processed and Paypal notifies PPM. Please contact pricemedia@aol.com if you have questions. Thank you!)
Price: $15.00
---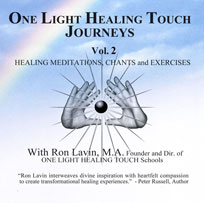 F2.ONE LIGHT HEALING TOUCH JOURNEYS- Vol. 2 – AVAILABLE TO OLHT STUDENTS ONLY.
69 min. — $15.00
HEART NEAR-FAR MEDITATION – A guided meditation to develop the connection to our heart and our awareness to our inner and outer world.
COLOR HEALING – A guided meditation to rebalance our energy fields using the power of color energy.
HEALING STREAM – A guided meditation to bring deep healing to the entire body, mind and Spirit.
COLUMN OF LIGHT – A guided meditation to raise and align an individual's or group's energy level with the Earth's Heart and Creation's Light.
Item Name: ONE LIGHT HEALING TOUCH JOURNEY CD – VOL 2
Item Number: F2 – CD
Price: $15.00
---
F3. ONE LIGHT HEALING TOUCH JOURNEYS – Vol. 3  75 min. — $15.00
LECTURE: MALE/ FEMALE ENERGY – Learn how our male and female imbalances affect us: how to identify imbalance; how to heal ourselves; the effect of parents; how our children stay connected to us energetically; what to do when we're imbalanced.
MALE/FEMALE GUIDED MEDITATION – Experience an empowering, guided mediation to help clear and heal the imbalances in our male and female energy patterns. This work is key to the emotional and mental health of all of our relationships and to our society. As we heal our inner world, so it is reflected in our outer reality.
Item Name: ONE LIGHT HEALING TOUCH JOURNEY CD – VOL 3
Item Number: F3 – CD
Price: $15.00